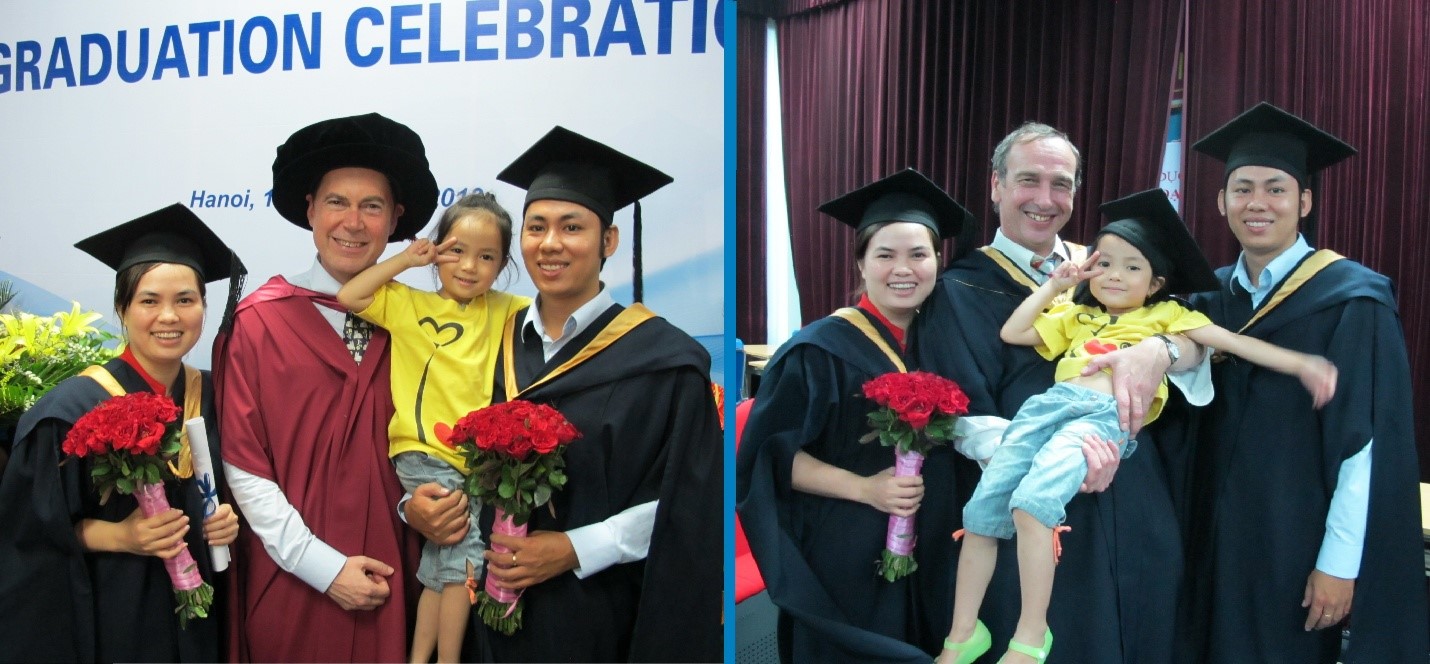 Nguyen Huu Bich, Nguyen Thi Mai Hoa and their daughter taking photos with Victoria University lecturers on Graduation Day
Hi Bich and Hoa! Is it a little bit overstated if we give you the title of "the most hard-working couple in Phu Tho Province"?
Nguyen Thi Mai Hoa: Hi there. Actually we have no idea about whether it is true or not. The only one thing we know is that after graduating from the HANU – VU MTESOL course, we were given the nickname "Incredible Couple", for getting International Master Degree, as well as having children and building our house at the same time. Everyone could not believe we could do that. I'm not even sure that we can do something like that ever again.
Which one of you decided to choose HANU – VU MTESOL program?
Nguyen Huu Bich and Nguyen Thi Mai Hoa (at the same time): Her!!! Me!!! (Laugh)
Nguyen Huu Bich: I was busy with the high school English entrance exam in Phu Tho at that time. She travelled all the way to Hanoi and prepared everything. She even filled in the application form for me and reminded me to take a day off to attend the course entrance exam at Hanoi University.
Nguyen Thi Mai Hoa: I was looking for information about international courses at Hanoi University and almost immediately, I decided to choose HANU – VU MTESOL program. The reason was Victoria University was very well-known, even in Phu Tho Province. Moreover, the study time is less than most of domestic master courses. In the second year, each subject took only 10 class sessions. Not to mention this course has high input and output requirements. So if you are a teacher and you complete this program, you will no longer have to take the 6-level language test in accordance with The Common European Framework of Reference for Languages (CEFR). A lot of benefits! The course is hard though, so I convinced Bich to take the test first and become the "guinea pig"! (Laugh)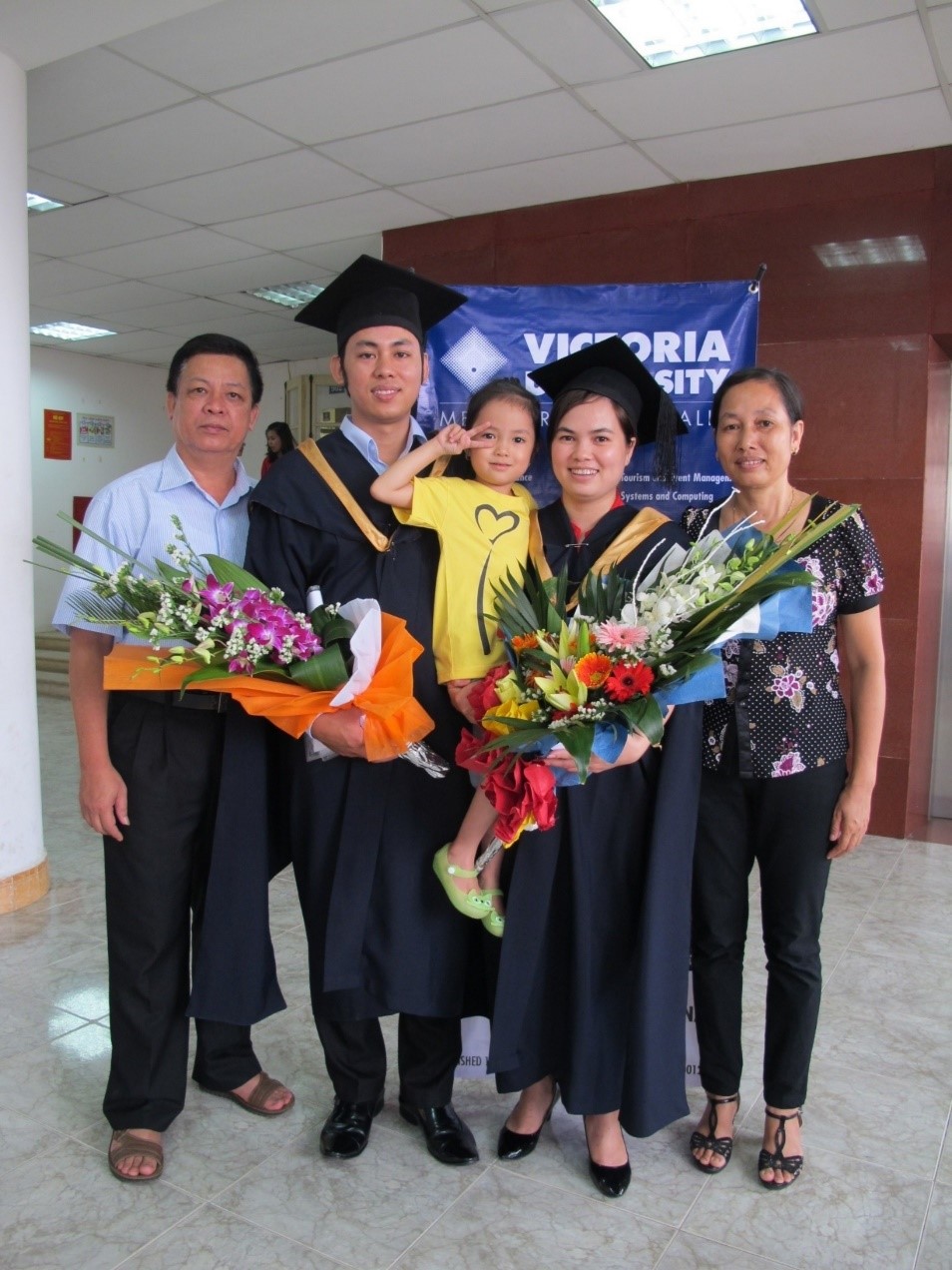 The whole family travelled to Hanoi to attend Bich and Hoa's HANU – VU MTESOL graduation ceremony
In addition to choosing a course that was suitable for your jobs and professional requirements, was there any other criteria that made you decide to take this HANU – VU MTESOL program?
Nguyen Huu Bich: I had studied at Hanoi University before. The university has a great reputation for its teaching quality, so obviously its degrees are standardized and valuable.
Nguyen Thi Mai Hoa: Bich gave the program a lot of compliments after just a few months attending! He said, "You really should learn from these lecturers". And that was when I knew I made the right decision. I then decided to take the course entrance exam without any hesitation.
How did you find the course after you had actually started your study?
Nguyen Huu Bich: The subjects were very academic. The amount of fresh new knowledge was huge. You had to be very careful or you would have to re-do all of your assignments. If you did not do well in the Phase 1 (Graduate Diploma), you would not be able to do well the in Phase 2 (MTESOL). For instance, the HANU – VU MTESOL course probably was the first program that provided the unit Language Testing & Assessment. At that time, there were only two Vietnamese teachers that had doctorates in this major.
Nguyen Thi Mai Hoa: My biggest fear then was the moment we had to submit our final assignment, which would be checked by a software that calculated proportion of plagiarism. I told my husband, "I'm scared! If it surpasses 25%, I'm doomed!" Luckily, my percentage was only 23%. To be honest, I would have been satisfied with just a "Pass" grade. But surprisingly, I got High Distinction grade in one subject, and Distinction in the other two. And so did Bich!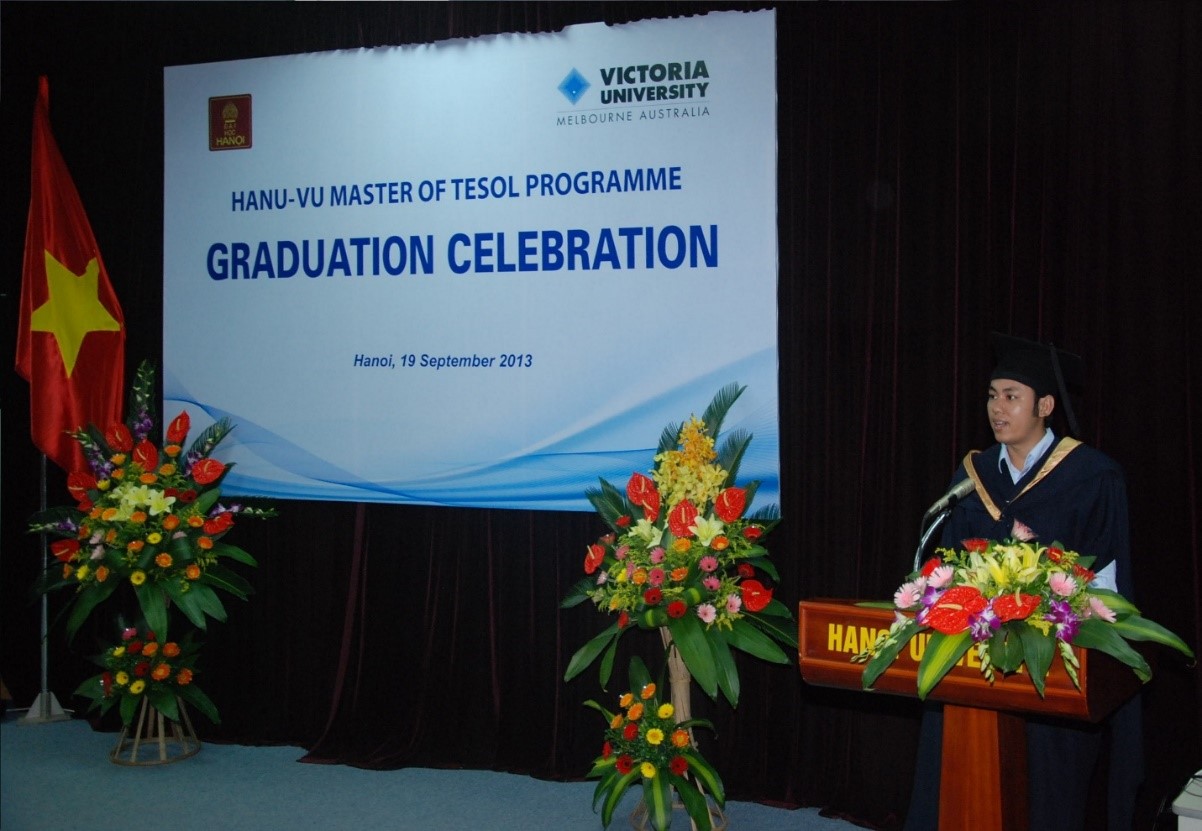 Nguyen Huu Bich, representing his course mates, gave a speech at his graduation ceremony
Let's talk about your "Incredible Couple" nickname. You were so good at both learning and building a family. How did you handle it so well?
Nguyen Thi Mai Hoa: Oh, how difficult it was back then! I was pregnant when we started the Phase 2. Fortunately, at this phase, we had to study only 10 cumulative days for each subject, so there was time to have my baby. Three days before being in labor, I even had time to finish all the assignments of my first subject. Surprisingly, I got highest grade for that subject! After giving birth, I travelled back to Hanoi, took my baby along with me to attend the second subject on schedule, and rented a room right on campus. This probably was my most relaxing time, because my mother came down to help me out. All I did was to breast-feed my child and study. (Laugh)
Things got even much more difficult when we started to study the third subject. There were only two days left before we travelled back to Hanoi to study when my leg was broken. Wearing a cast, I had to carry both crutches and books onto the coach to Hanoi the next day. Bich had finished his study, so I had to wake up every day on my own at 4 a.m., arrive at the station by 4.30 and once arriving in Hanoi, I got on the back of a former student's motorbike to get to Hanoi University. Ms. Jo, my lecturer, showed up on the stairs every morning and waited until I got piggybacked by classmates to the third floor. At noon, I didn't even have time to eat. Carrying crutches alongside, I went home as soon as possible to breast-feed my baby.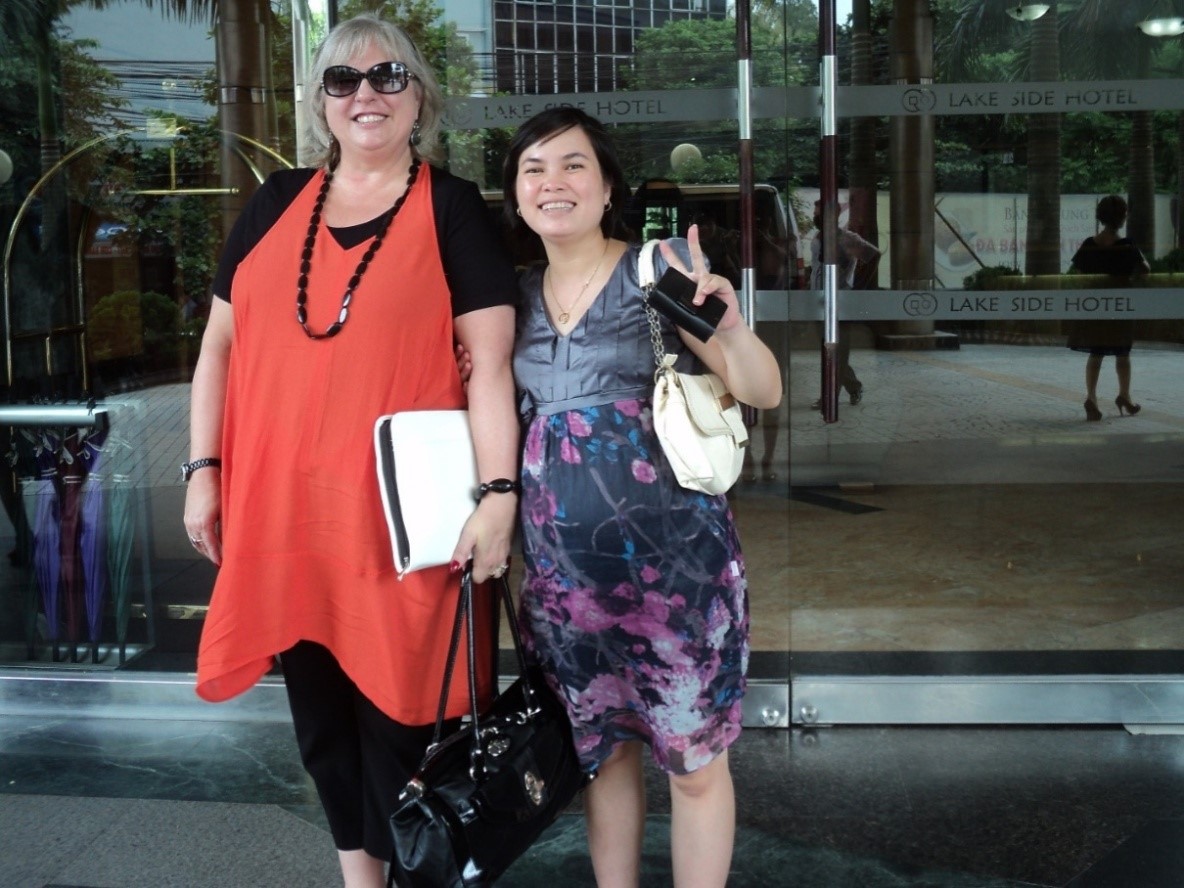 Nguyen Thi Mai Hoa with her lecturer, Dr. Jo Winckle (Victoria University)
You were such a heroine. Were you satisfied with the outcome after so much hard work?
Nguyen Thi Mai Hoa: Of course. Firstly, I felt satisfied with my research topic, "Applying the Method of Group Exchange When Learning English Listening and Speaking in High Schools". Listening and speaking skills are usually weaknesses of students from small provinces. The more remote they live, the weaker their skills are. To help them become more confident and less dependent on their friends when doing teamwork, you need to give them mutual assignment in the forms of paintings, PowerPoint files or presentations. Student groups debate and change members constantly, so all students have to take part in.
After I graduated from the HANU - VU MTESOL course, this research fitted perfectly with the English pilot program. I raised the standard a little bit higher, making teams do tableaux then recording them with a cellphone. Unexpectedly, students became more and more creative as they kept doing this method. A lot of keywords appeared in those clips which were very humourous and interesting at the same time. Until now, every student is very excited because making mistakes is nothing compared to not being able to show up your English skills.  
That sounds fantastic! So in addition to upgrading your profession, is there anything else that you have benefited from earning the HANU - VU MTESOL degree?
Nguyen Huu Bich: Hoa was the only teacher that were not required to take the 6-level language test at her school. She was the only high school teacher in her HANU - VU MTESOL class. Many students were contract lecturers of universities, who got on permanent employment ones right after completing this course. Some people were even promoted to heads of divisions or even deputy president of a university. I myself also benefited from the knowledge gained at the HANU -VU MTESOL course in my management career. I was offered a job at the Ministry of Education and Training in Hanoi, partly thanks to my upgraded capacity after the course.
Nguyen Thi Mai Hoa: I am very happy because the HANU - VU MTESOL course gave me not only a degree, but also a chance to improve my knowledge level in the long term. I now have a vast network of colleagues, and my lecturers still support former students just like before. Thus, my knowledge and experience will keep on advancing. Later today, I will see a lecturer of the HANU - VU MTESOL course to discuss with him about a topic I'm researching. Many people think this is not important for a high school teacher, but English programs in schools are being changed and renovated. If you do not improve your skills, it will be very difficult to catch up with your work. The newly applied English high school experimental program is also well-matched with the study methods I learnt at HANU - VU MTESOL course. Thanks to this course, I have become a lot more confident than ever before.   
Father and daughter took photo with the Dean of College of Education, Victoria University - far right - and lecturer of HANU - VU MTESOL program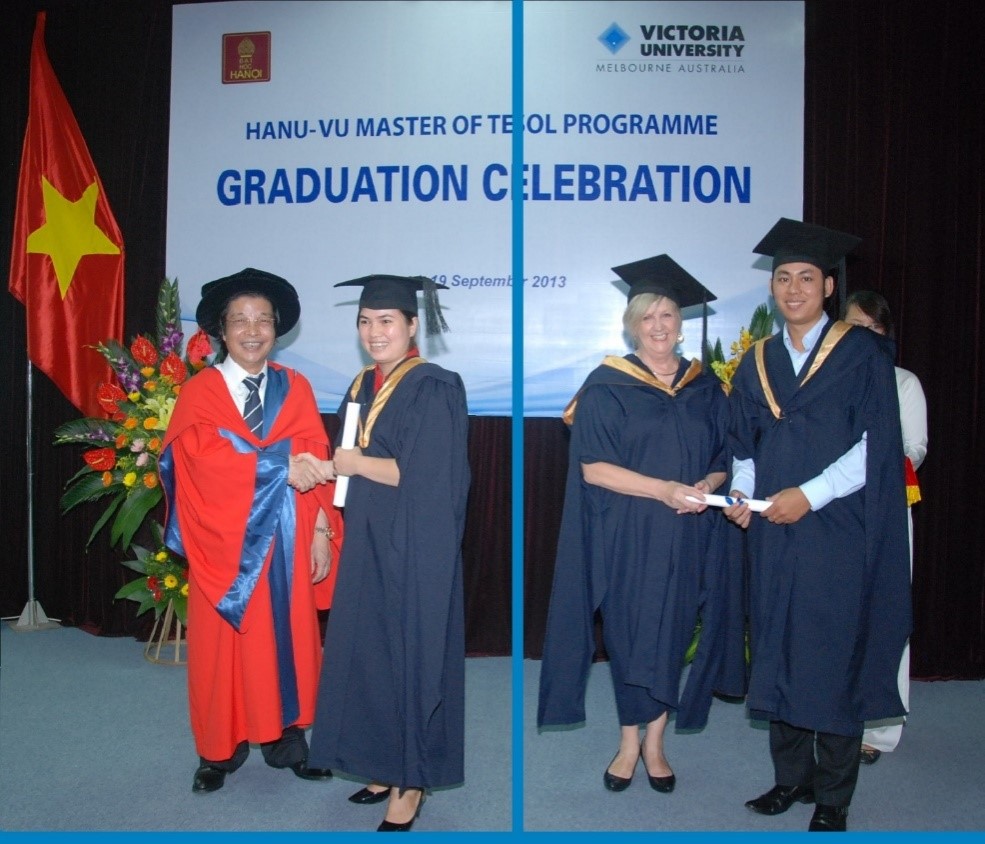 Nguyen Huu Bich and Nguyen Thi Mai Hoa received their diplomas at their HANU - VU MTESOL graduation ceremonies
You are such a good example of hard-working for everyone to follow! Thank you so much for sharing with us. We wish you the best of luck in all of your future challenges in your professions and lives.